As the weather warms up and the days get longer, your outdoor space can be the ultimate retreat to spend time with friends and family. If your space is in need of a refresh, we've got you covered. Here are some ideas to revitalize your backyard space to really enjoy during the summer months.

Patio Furniture
Adding new furniture pieces can make a big difference to help refresh your outdoor space, and make it feel like an extension of your home's interior Your choice in patio furnishing should depend on the size of your outdoor space and how you want to utilize it.
A modern sectional is the perfect option to fill an open space, pair it with a coffee table to make your backyard feel cozy and inviting. Use dark comfortable cushions that can withstand the elements of being outdoors, this ensures that you are creating the ultimate relaxation spot to enjoy after a long hard workday.
For smaller outdoor spaces, we recommend you focus on one feature item such as a daybed, lounge chair or accent patio chair and use them to create the perfect chill spot to retreat to when the day is over. You can choose from all kinds of designs and colour tones, and it substantially more affordable than a sectional or dining set.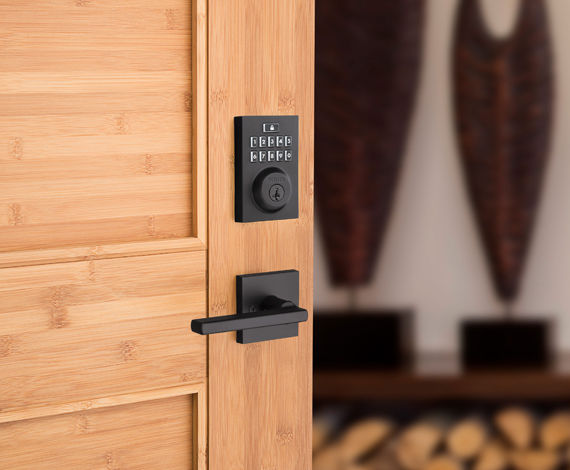 Backdoor Entryway Lock
The backdoor is a detail that is often overlooked but can make a big impact if you are using it frequently. Every exterior door needs proper secure hardware to ensure the safety of your home. Try a keyless entry option with an electronic lock or a simple mechanical keyed lock to make it easier on you and your family to use the backdoor.
The Smartcode Electronic Lock adds an air of contemporary style while also offering you the convenience of keyless entry with a 10-digit keypad and one-touch button to lock it. For those looking for a simple mechanical upgrade, the Breton square rose keyed lever features clean horizontal lines and rounded edges that complements any backyard style. Both the Smartcode and the Breton keyed lever feature Weiser's patented SmartKey Security technology that allows you to rekey it in seconds to use the same key as the front door lock. The backdoor becomes just as convenient as the front door, and it makes your set of keys that much lighter with one less key.

Friendly Greens
If you're not much of a green thumb, the cactus will become your prickliest best friend in the plant world. It is one of the easiest plants because it retains moisture, prefers a drier soil, and only requires a drink when the topsoil completely dries out. During the warmer months, keep your cactus friend in the direct sunlight outdoors and rotate it to ensure all sides get exposed to the sun for growth, and during cooler months, cacti have a long dormancy and need less care and you can simply bring it indoors.
Display it on the coffee table or by the backdoor so it can get optimal sunlight. The pots don't need to be too large for the cactus since there is no need the extra water to be retained and it can drain out quicker.

Extra Lighting
Lighting can take the coziness of your outdoor space to a whole other level and preserve a glowing ambiance after the sun has gone down.
We recommend installing path lighting to light your way around the backyard to get you from the backdoor to different areas in your outdoor space Solar LED lighting is a great option as it's wire-free and good for the environment, what can be better than that?
String lighting is another great choice to add to your backyard retreat. They have become increasingly popular as they offer a beautiful glow that adds a cozy ambiance to any space They can easily be hung from fencing, furnishings, or trees, to create a warmth for your social gatherings, celebrations or just a simple evening of outdoor relaxation.