It's not so easy to rip out the sink, bathtub, and toilet, and tearing up the flooring and backsplash tiles don't seem appealing either. There are small ways to change the vibe and style of your bathroom without doing these daunting changes. All things you can do yourself!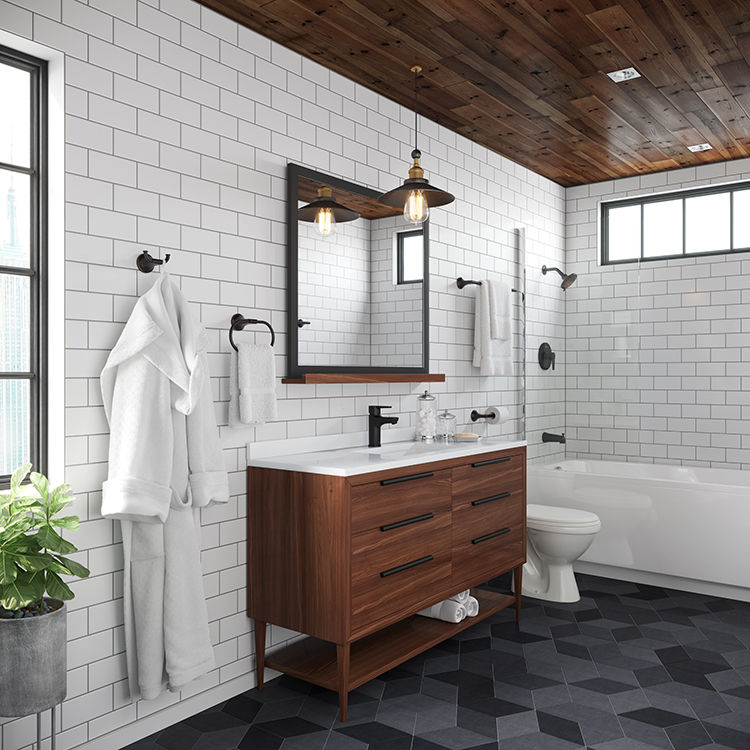 1. Lighting
Installing new bathroom light fixtures can make a world of difference to the ambiance and appeal of your bathroom. It can even change the way you see yourself in the mirror or the amount of makeup being applied in the morning.
We recommend incorporating different types of lighting throughout the bathroom to achieve that layered lighting effect. Don't be afraid to use unconventional types of lighting fixtures in the bathroom like chandeliers, sconces, and pendant lamps. You can also try using mirrors with background lighting to add some real drama to your design as well as be functional to your everyday routine.
Be sure to choose lighting that will complement your faucets and vanity, and don't forget about the position and colour temperature of the lighting as they are also very important.
The direction you want to take with lighting is all about mood. Do you want to go with something bright and cheerful? neutral or dramatic? Or warm and earthy? choosing the right fixture can ensure you achieve whatever mood you are looking for in your space.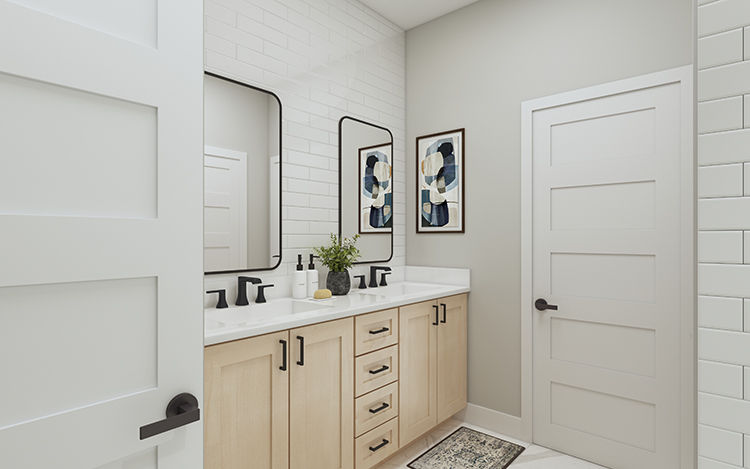 2. Your Hardware
It's so easy these days to change out your bathroom faucets and door hardware, so there are no excuses to not make this update. The finish of your hardware is so important to the design of your space, and there so many to choose from. You can go for Polished Chrome for that ultra-modern look, Matte Black to add some drama, Satin Nickel for that timeless classical design, or go with soft and luxurious finishes like polished brass or Venetian Bronze. And don't shy away from mixing your hardware finishes, this is an area where you can have fun with your design.
For your door hardware, it's important to select something that catches your eye as soon as you walk in the door. Weiser Lock's Casey lever is available in satin nickel and matte black, and it features clean lines and a smooth contemporary handle. Another option is the Singapore lever in matte black, the modern and crisp style of the lever gives the bathroom a bold and striking look.
When choosing a faucet, the style of your faucet is the most important after finish. Make sure you choose one to complement the esthetic of your overall design. For a traditional design, try the Ashfield faucet from Pfister, it's trough spout brings a bit of vintage vibe to your space. Those looking for something more timeless, Pfister's Ladera collection offers a clean and simple design that will never go out of style. If modern design is what you are looking for, the Tenet bathroom collection is for the true minimalist who finds beauty in simplicity and values precise functionality. Each fixture sits tightly flush, a feat of inner engineering that allows for crisp lines and a tidy footprint.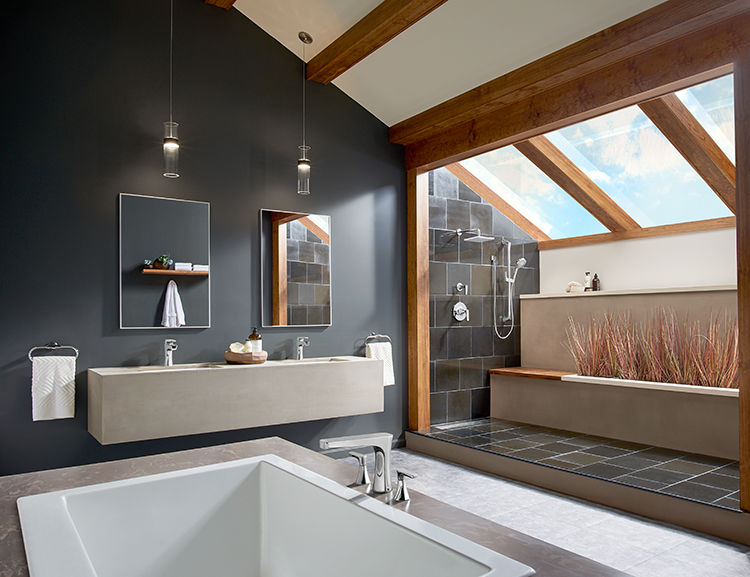 3. Paint
It doesn't take a lot to slap on a coat of paint to refresh the feel of your bathroom. It's such a simple thing that makes a huge impact to your space.
Go bold or go home with a deep navy or aqua green to add some drama and complement the different features of your bathroom by creating contrast.
If you want to go in another direction, try using offset white to bring warmth and brightness to the bathroom. Alternatively, you can go with a cool grey to create simplicity and sophistication that will never get old.
The paint doesn't have to stop at the walls – the cabinet paint can also be an easy project to tackle and can make just as big of an impact. Depending on the mood, you may be interested in going with a powder blue, a warm taupe, or bold teal. If you're feeling adventurous with the painting, do both the walls and the cabinetry in different contrasting but complementary colours.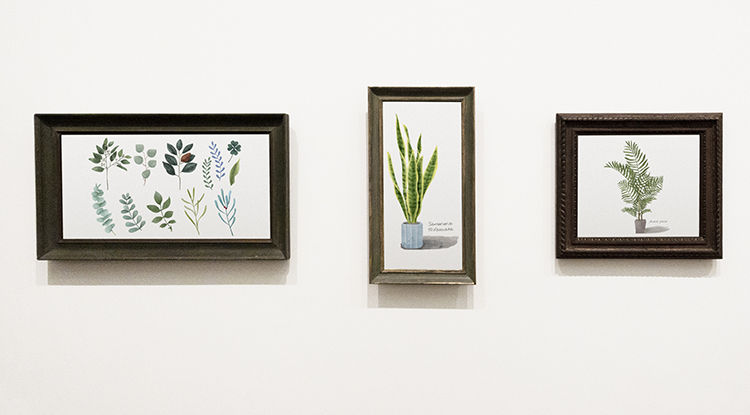 4. Artwork
The thought that should go into artwork you choose is quite important, especially since it might be one of the first things you see when you wake up or the last when you go to sleep. It should get you into a great mood, bring in fresh thoughts for a new day and inspire your dreams just before bed.
To achieve a more vintage vibe, hang some classy fashion magazine posters with beautiful gold frames. These can be easy to find through Etsy or other DIY sites from crafters.
If you're looking for something earthy to add to your walls, get some plant wall art painted with light watercolours or a hanging planter set to show off some real greens. The art you choose can also help to create calm and serenity – we recommend a tabletop water fountain perfect for imitating the same effect of running bath water. So calming!
For a more modern look, look for modern prints, minimalistic art or abstract paintings. These all can be paired with a frame with bold paint and clean lines to create contemporary and bold elements on the walls.