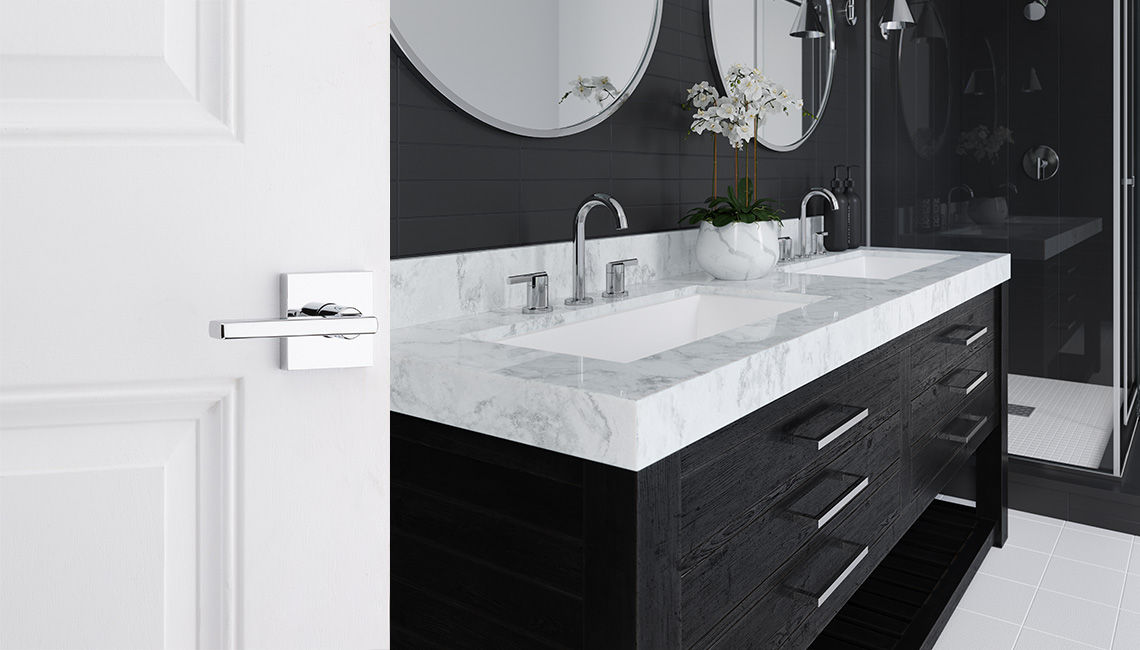 1. Replace the boring hardware
Updating your bathroom door hardware and faucets is an easy affordable way to add character to your bathroom. Changing something as simple as your hardware's finish can make a big impact on the look and vibe of the space. Weiser's Halifax lever is available in satin brass, satin nickel, matte black and polished chrome, and works perfectly for matching with any style you are going for. Any of these finishes can be matched with the Fullerton collection from Pfister. This is a complete collection that comes with faucets, tub and shower and a full line of accessories, ranging from the towel bar, towel ring, robe hook or toilet paper holder.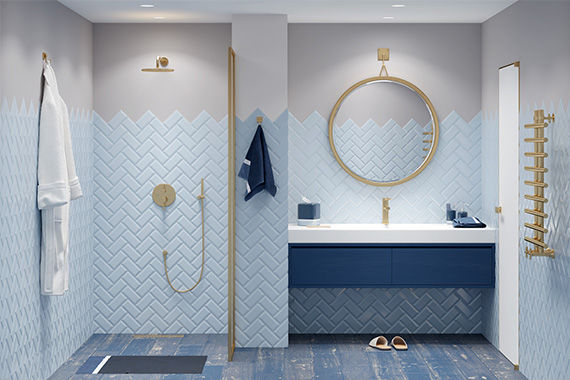 2. Add chic floors & backsplash
You might assume that replacing the floor and backsplash tiles in your bathroom will cost a fortune, but there are several low-cost solutions that can help you achieve that chic tiled look. One option is to use 3D peel-and-stick tiles which come in various styles such as white or black marble, blue Moroccan, Nordic pattern in a hexagon shape, or the standard rectangular layout. These tiles not only look realistic, but they also are quick and easy to install, and can withstand heat and humidity.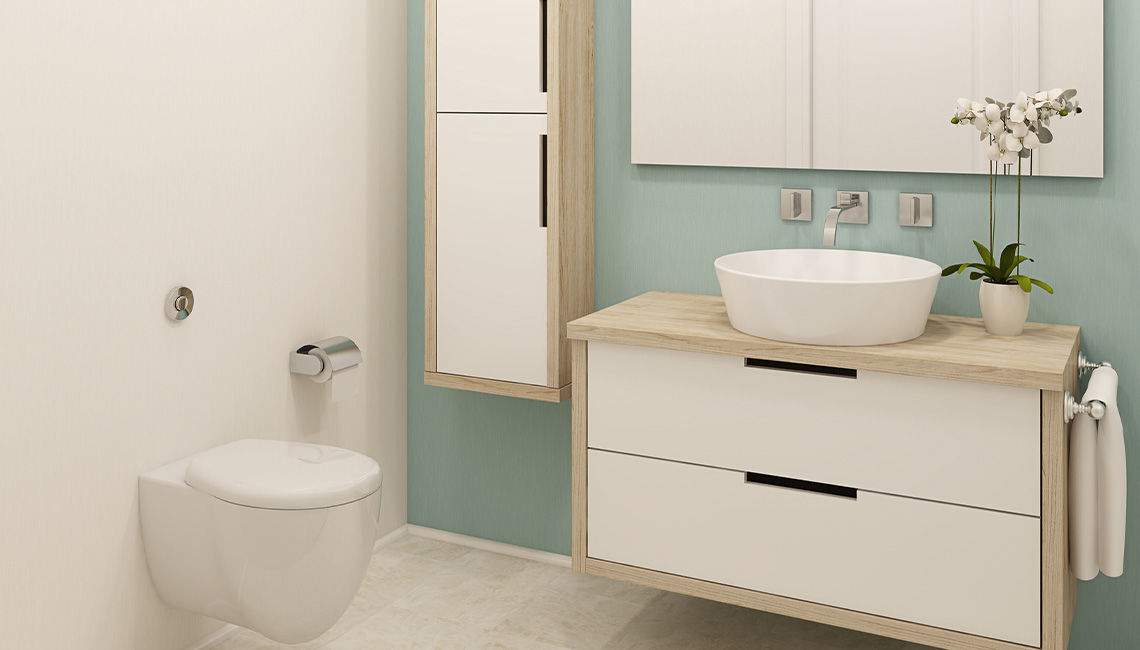 3. Create an accent wall
Accent walls became popular in the early 2000s, providing an easy way to add a pop of character without the higher cost of painting the entire room. They can help draw attention to a particular area of your bathroom that you'd like to give more flair. You can choose a colour that complements your existing bathroom décor or give it a modern twist by using black paint to match your bath hardware or door hardware.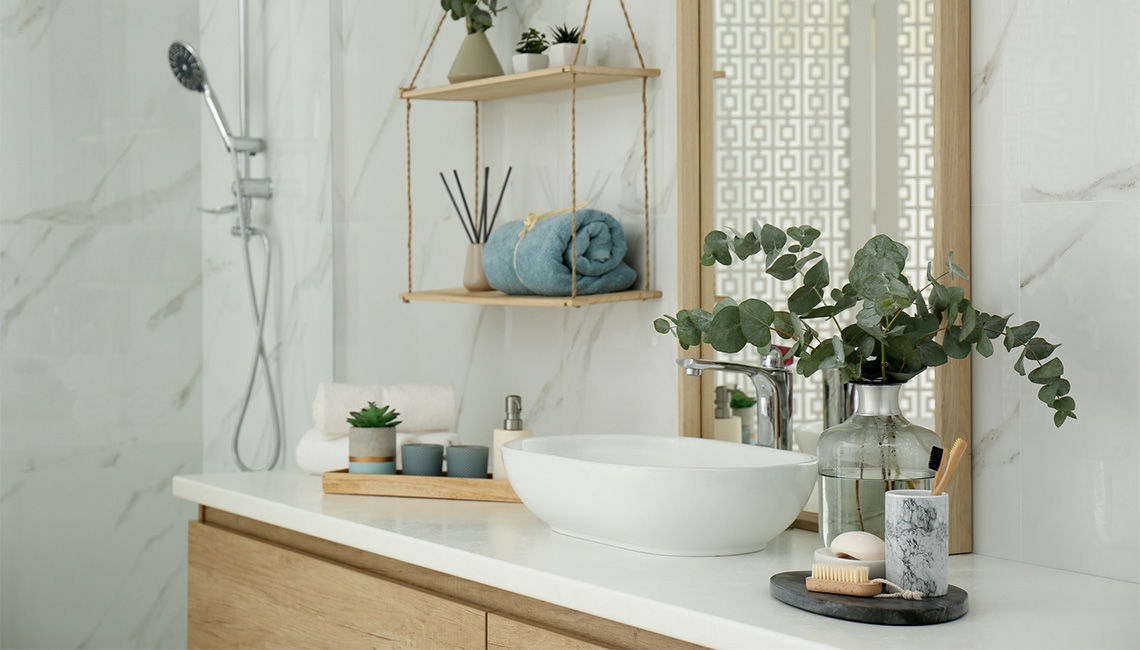 4. Accessorize with plants
Adding plants to your bathroom is a great way to bring life and character to the space. Not only do plants add a pop of colour and texture, but they also help purify the air and create a more relaxing atmosphere. Consider adding a small potted plant to your bathroom countertop or windowsill or hang a macrame plant hanger from your shower curtain rod.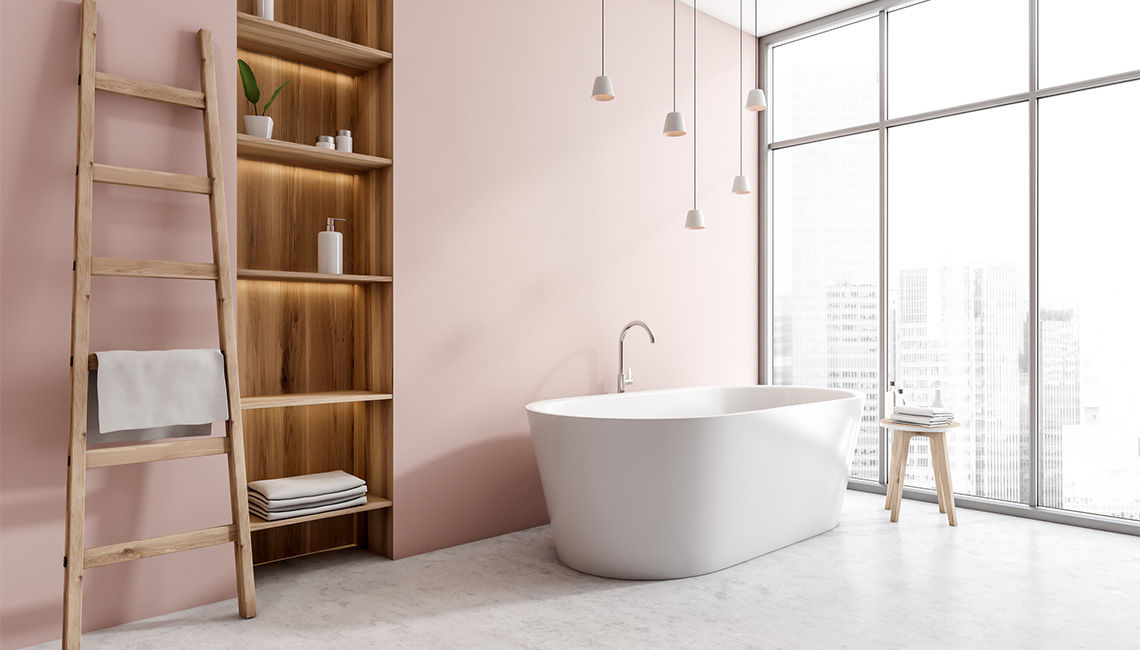 5. Get creative with a DIY project
There's a unique sense of satisfaction that comes from creating something fabulous on your own that still gives the impression of a substantial purchase. You can achieve this by visiting your local hardware store to purchase some wood and nails and then use a trusty old hammer to create a cute DIY ladder, perfect for hanging bathroom linens. Alternatively, you can make floating rustic wood shelves to use for more décor or bathroom essentials. Pinterest is a great source of inspiration and offers step-by-step instructions on how to create your own bathroom masterpiece.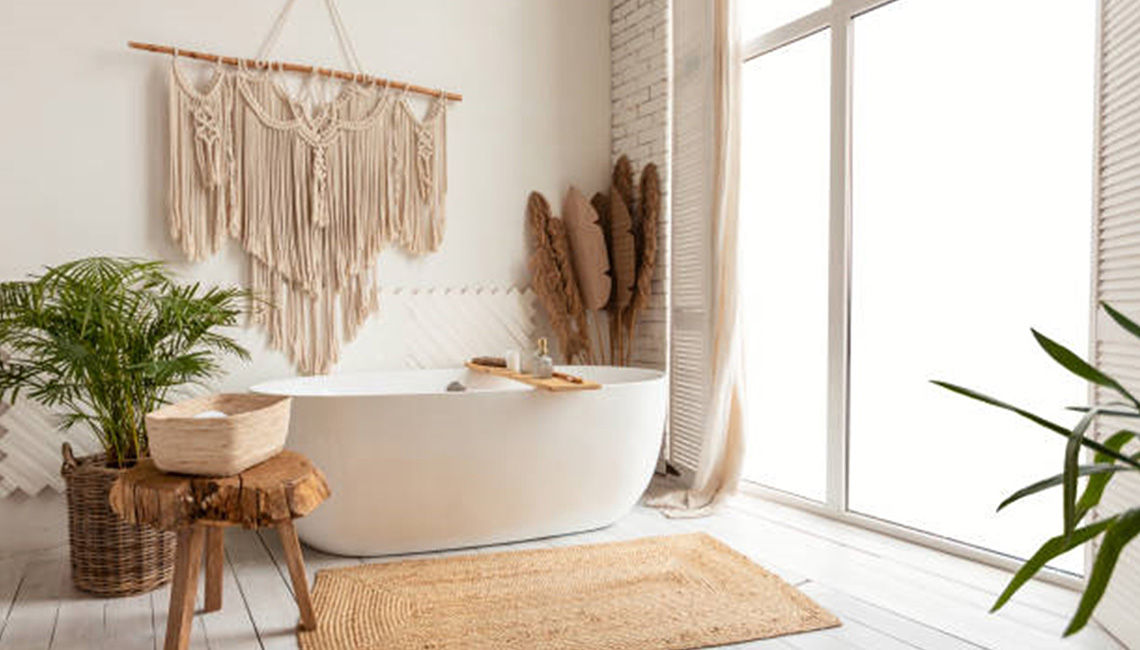 6. Add some warmth with textiles
Adding textiles is a simple yet effective way to add warmth and character to your bathroom. You can start by swapping out your plain shower curtain for something more eye-catching, such a patterned or textured one. Consider adding a cozy bathmat or rug to create a softer feel underfoot. Additionally, adding decorative towels with unique designs or colours can bring a pop of personality to your bathroom. Don't forget to include a basket or two for storing extra towels and washcloths, which can also add to the overall look of the space. By incorporating textiles into your bathroom, you'll be able to create a welcoming and stylish environment that you'll love spending time in.
Adding character to your bathroom doesn't have be expensive or time consuming. Simple updates such as your door hardware or adding some plants or cool textiles can create a relaxing and enjoyable space that reflects that your personal style.