You may have heard how the proper work setup can be essential to your productivity. Here are some simple tips to create that perfect work from home environment.

Invest in an ergonomic chair
There is nothing worse than working long hours sitting in an uncomfortable, back-breaking chair. That is why it is so important to invest in a proper office chair. No, don't settle for your bed, the kitchen table, or the lounge chair in the living room – get something ergonomically designed!
Some of the benefits of getting an ergonomic chair include increased blood circulation, better posture throughout your workday, pain reduction in your neck and back and reduced hip pressure. It can also lead to increased productivity – how can you say no to that? The investment is worth it and will pay off in the end.

Privacy is key!
No matter who is home with you, a privacy or keyed door handle is going to save you a lot of sanity at the end of the day. As much as you may love the people you live with, whether it be your friends, spouse or children, you require focus and quiet to get your work done. Weiser offers privacy and keyed functions of all the door hardware styles, so there's something available for everyone.
The Singapore lever has a clean, modern look that lets the designer into your home and it's versatile for any WFH space. The keyed lever comes with two keys and features SmartKey SecurityTM that allows you to rekey your lock in seconds, this feature allows you to re-key your office lock to be the same as your front door, so you don't have to carry around multiple keys. The privacy lever is a little more subtle when wishing for less distractions. It features a discrete push button to lock on the interior and a hole for the emergency key to unlock on the exterior side.

Let the rays in
Try to start your workday with some natural light! There are so many studies that show the benefits of getting natural light – this includes increased energy levels, reduced stress, a strengthened immune system, and a more positive state of mind.
Perhaps you've heard of the wonderful hormones called serotonin and cortisol. They get released when you are exposed to sunlight and can do wonders for your mood, stress, and overall productivity. It's so important for your mental and physical well-being, and just by taking in the brightness of the day even with exposure to artificial light, these hormones get released.
If you are not able to have your office by a natural source of light, make sure that you have a desk lamp with good lighting that provides warmth and relaxation to your workspace.
.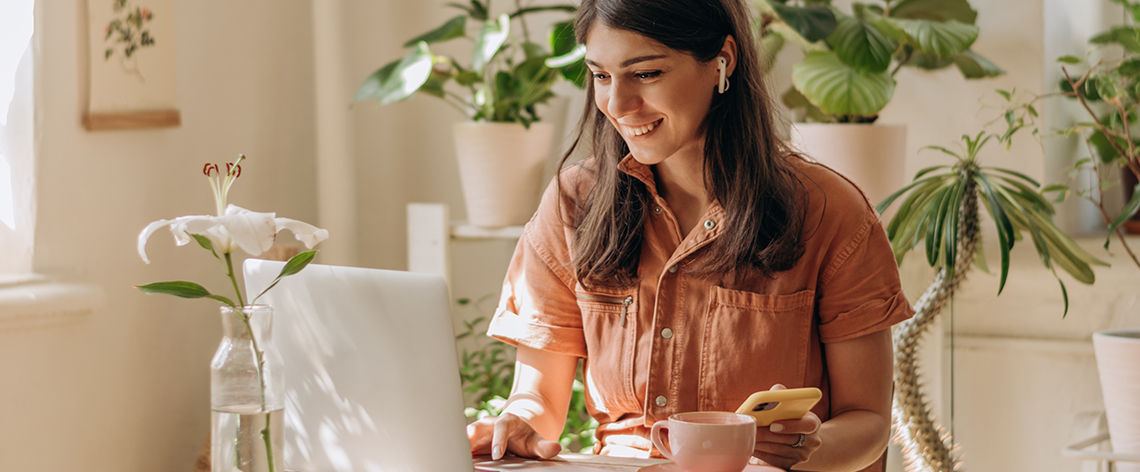 Make the Space Your Own
Get creative when it comes to your WFH area, by adding the things that bring joy and relaxation to your workday. It could be adding a coffee station, having plants by your desk, listening to music while you work, or a yoga mat to motivate you to get your body moving on your lunch break.
A vibrant green plant can be a great esthetic addition to your desk and has been shown to improve stress levels, office performance and focus. A coffee station is a fun and easy project to take on, and it'll make your working space that much more appealing. For many, music can be great for the mood and lead to more efficient work. Combine that with storing a yoga mat by your desk, and it'll be that much easier to get in a quick workout and create healthier habits throughout your day.